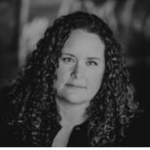 +Trigger Warning: Sexual Assault+
"When the truth gets stuck in us, it crowds out the space that could be used for love and connection. Telling the story is a way to get the truth outside of me." 
In this final episode of the Season of Survivors, Sarah sits down with her wife, Becky... not to interview her, but to BE interviewed by her, and to share a part of her own survival story she has not shared before. Sarah tells the story of her own sexual assault, a story she had buried from conscious thought for nearly two decades. She shares her experience processing the sense of betrayal specific to being assaulted by someone she trusted. She opens up about how she still struggles to name her assault as rape. And she acknowledges that she still has more work to do to find healing in this place.
Her story is brave and it is beautiful and it was brought into the light because of the brave beauty of every woman who sat down across the microphone from her this season. 
Resources for Survivors:
Family Resources (local)